Learning and Teaching with Geomedia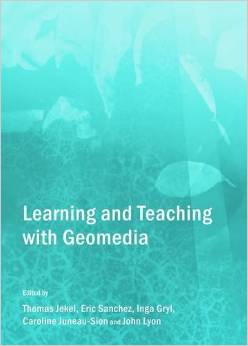 Learning and Teaching with Geomedia provides a theoretical and practical introduction to a field explicitly aimed at secondary education. The first section consists of three scientific papers introducing the dimensions of the emerging geoinformation society. The second section of the book is specifically dedicated to teacher trainers and teachers. The introductory section provides an overview of the development of geomedia and envisions a roadmap of technological development ahead; a discussion of everyday geomedia applications and geomedia use; and, finally, pedagogical approaches using geomedia in secondary education. This section provides a broad foundation that does not argue in favor of a technological paradigm, but suggests that geomedia use in secondary education should be oriented at everyday life applications. The main section is devoted to exemplary learning environments that are ready to use, and easily transferable to local schools. While geoinformation technology is the basis of these learning environments, care has been taken to clearly identify conceptual approaches to these learning environments, and, therefore, make them less reliant on technology locally available. Many of these are easily applied without any further software or hardware other than a web browser and a mobile phone. The pedagogical background of these learning environments leads from science education and spatial thinking to learning environments that support an education for spatial citizenship, reflected geomedia use and communication with maps to successfully participate in society. The book is aimed at academics in the fields of pedagogy, geography and citizenship education, as well as those working in science education. The professional audiences addressed are teacher trainers at university departments, teachers in secondary schools and students in teacher training.
Thomas Jekel, Eric Sanchez, Inga Gryl, Caroline Juneau-Sion, John Lyon (Hrsg.; 2014): Learning and Teaching with Geomedia. Cambridge.