New media in geography education
What does digital change mean for geography lessons? What potentials do digital and other innovative media offer for geography lessons? How do we deal with digital and other innovative media in geography lessons? And what challenges does the dissemination of new media pose to teachers of geography? Within the framework of this research field we deal with a variety of questions related to the subject area "new media".
Publications:
Budke, Alexandra; Kanwischer, Detlef und Pott, Andreas (2004) (Hrsg.): Internetgeographien. Beobachtungen zum Verhältnis von Internet, Raum und Gesellschaft. Erdkundliches Wissen. Bd. 136. Wiesbaden.
DiGeo - Professional concepts for the responsible use of digital geomedia in teacher training
Subproject: Argumentation
Project participants: Sebastian Seidel, Alexandra Budke
Cooperation: Inga Gryl, Detlef Kanwischer, Uwe Schulze
External funding: Bundesministerium für Bildung und Forschung (BMBF)
Time period: Start November 2019
Digital geomedia applications such as GoogleEarth or Geoportal.de have a high relevance in everyday life. Teachers of geography and subject teaching need the ability to provide their students with the necessary media and data skills for responsible and reflective use. The joint project DiGeo is developing a digital subject concept for the use of digital geomedia in geography teacher training. For this purpose, subject- and media-didactic standards for digital geomedia are formulated as applicable digital teaching/learning media. In the sub-project Argumentation, the usability of digital geomedia for strengthening the argumentation skills of students of teaching professions will be examined.
Link:
https://www.wihoforschung.de/de/digeo-2824.php
DiSpielGeo ─ Potentials and limits of digital games for making informed decisions
Projectparticipants: Joelle Lux, Alexandra Budke
Cooperation: Emmanuel Guardiola, André Czauderna
(TH Köln, Cologne Game Lab)
External funding: Bundesministerium für Bildung und Forschung
Time period: 2019 - 2021
The BMBF project DiSpielGeo is concerned with the question of whether digital games contribute to maturity in the context of current social challenges - such as climate change, sustainable resource use, migration and urban development - and how they can be reflected in geography lessons. To this end, the currently most relevant commercial games will be analysed and interviews with developers and students will be conducted. Finally, a guideline for teachers on the meaningful use of digital games in geography lessons as well as for game developers on the design of games on socio-ecological challenges will be created.
Publications:
Czauderna, A. & Budke, A. (2020): How Digital Strategy and Management Games Can Facilitate the Practice of Dynamic Decision-Making. In: Education Sciences 10, 99. https://doi.org/10.3390/educsci10040099
Lux, J.-D. & Budke, A. (2020): Playing with Complex Systems? The Potential to Gain Geographical System Competence through Digital Gaming. In: Education Sciences 10, 130. https://doi.org/10.3390/educsci10050130
Lux, J.-D. und Budke, A. (2020): Alles nur ein Spiel? Geographisches Fachwissen zu aktuellen gesellschaftlichen Herausforderungen in digitalen Spielen. In: GW-Unterricht 160(4), 22-36. https://doi.org/10.1553/gw-unterricht160s22
Czauderna, A. und Budke, A. (2021): Game Designer als Akteure der politischen Bildung. MedienPädagogik: Zeitschrift für Theorie und Praxis der Medienbildung 38 (Aneignung politischer Information): 94-116. https://doi.org/10.21240/mpaed/38/2021.01.25.X
Project Homepage:
https://dispielgeo.de/
Further Information:
https://digi-ebf.de/dispielgeo
https://www.empirische-bildungsforschung-bmbf.de/de/2633.php
Internet research in geography classes
Project participants: Eva Engelen, Alexandra Budke
Time period: Start September 2017
Internet searches offer numerous possibilities for teaching geography lessons, as up-to-date information on almost all geographical topics is available at lightning speed. However, the complexity and controversy of geographical issues leads to special demands on digital information research. Thus, multi-perspective, spatially related and up-to-date information must be found, evaluated and processed in order to be able to develop a conclusive argumentation to answer the question. The aim is to gain insights into the strategies of pupils* in Internet research that support them in identifying, evaluating and processing information available online on complex geographical questions. Based on this, didactic support formats will be developed, which can support the internet research during the process and thus contribute to the expansion of the information competence of the pupils in geography lessons.
Das Potenzial von Comics im Geographieunterricht nutzen
Project participants: Frederik v. Reumont, Alexandra Budke
Comics are an appealing and versatile medium that offers a promising approach to the communication of geographical topics in school lessons in its text-image combination. This rich potential is rarely used in geography lessons - in contrast to many other school subjects. Eyetracking will be used to investigate which strategies students* use when reading comics and how this understanding can be supported didactically. In particular, it will be investigated what a combination of comics and maps can look like and to what extent this supports the thematic understanding by students.
Einsatz von virtuellen Exkursionen im Geographieunterricht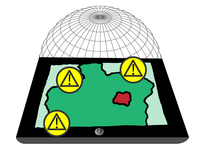 [This content is not available in "Englisch" yet]
Project participants: Frederik v. Reumont, Alexandra Budke
Cooperation: Arbeitsgruppe Christian Fischer, TH Köln
External funding: Rhein-Energie-Stiftung
In cooperation with the University of Applied Sciences Cologne (working group of Christian Fischer) Alexandra Budke and Frederik von Reumont developed a virtual excursion on the water problem in Cologne, which can be used in geography lessons and which enhances the geographical competence of the students. Using the water problem in Cologne as an example, the students can deal with the topics water quality, flood problems, bank use and ecological water management. The didactic concept serves as a basis for an interaction design that works with current methods from the field of human-computer interaction (e.g. usage-centered design according to Constantine and Lockwood). The project was funded by the RheinEnergie Foundation.
Publication:
Budke, Alexandra (2016): Nutzungskonflikte am Rhein. Eine virtuelle Exkursion zur Förderung von Argumentationskompetenzen. In: Praxis Geographie. 1/16. S. 16-19.
Zur virtuellen Rheinexkursion: